I am so excited that today we got to do a fantastic readers theater Christmas party with our homeschool friends. We read the Christmas Carol Readers Theater script that my Mom and I made (she taught middle school English as a Second Language). We also brought treats for the children to eat as we read through the script, and the kids wore the new Christmas Carol characters crowns to get into character as we read.
It was so fun to put ourselves into the characters from the familiar story, and I'd love to share the character crowns with all of you! The crowns for A Christmas Carol characters could also be used for classroom discussion purposes if you do not have time to a Christmas Carol readers theater. I think they turned out nicely!
Gaining Familiarity with A Christmas Carol
My kids have seen the The Muppet Christmas Carol
, so they are familiar with the story a little bit. My son and I are also reading the novel together (again) this year.
A Christmas Carol is a great introduction to classic literature. Because it is so widely read, performed, or retold during the holiday season, it has become a traditional part of our culture. Besides, the format of the story, in five "staves" or parts, makes it a clear story to practice retelling or outlining.
The basic premise is a rotten guy learns to be nice because he revisits his past, sees how things really are in the present, and sees the terrible future that otherwise awaits him. Part 1 depicts the bad guy, part 2 is revisiting his past, part 3 is truth about the present, part 4 is the horrible future that awaits, and part 5 is the bad man become good (i.e. everything turns out alright). If you are looking for a great frame for a story, you have it right there. [amazon_textlink asin='B0032GY2KS' text='Scrooged ' template='ProductLink' store='rebereid06-20′ marketplace='US' link_id='f3a8e899-d7a8-11e7-bec5-ed776c401cc5′]is a great (adult) retelling of the story.
Even for the kids that were not familiar with the basic outline, joining in our Christmas Carol readers theater gave them a new familiarity. We all had a ton of fun!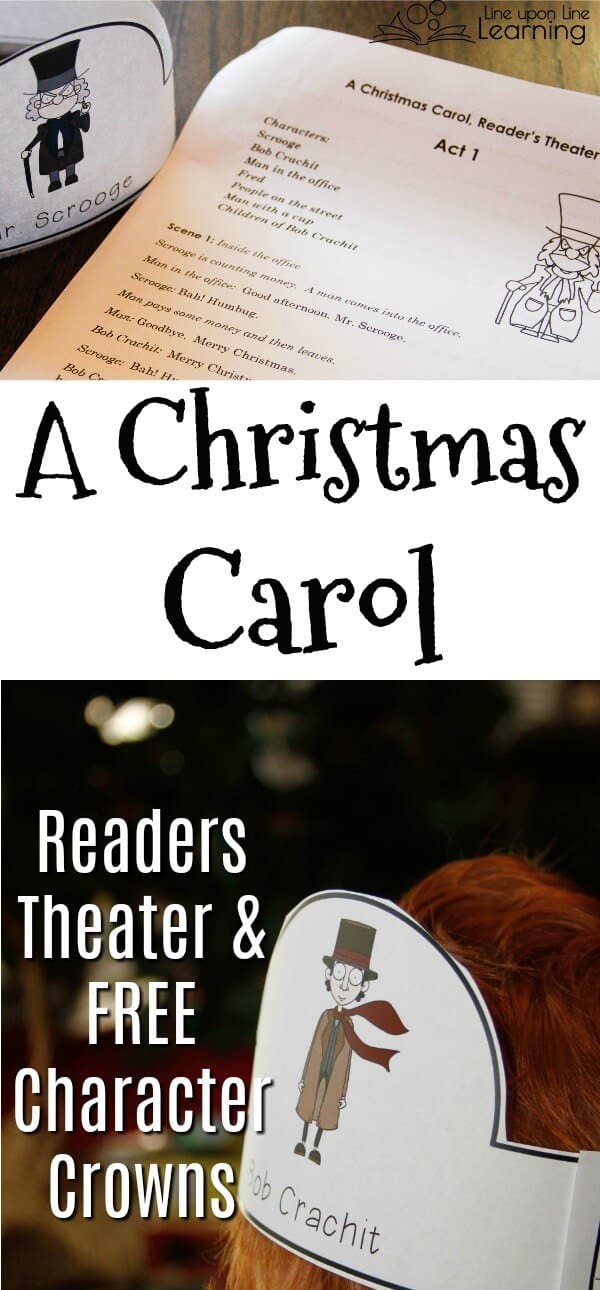 Get the Character Crowns for A Christmas Carol

Although I do charge for the Christmas Carol readers theater, I would say it is worth the price. You can use it year after year (because you will want to). Get the reader's theater from my shop or TeachersPayTeachers.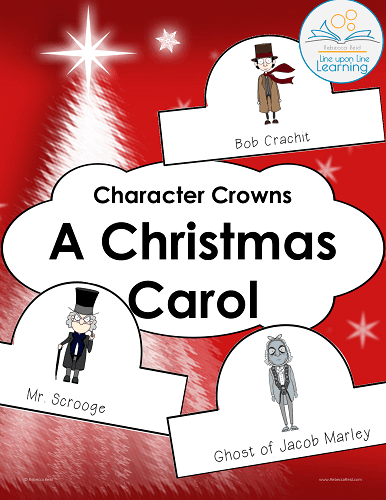 But, you can get your free copy of the Christmas Carol characters crowns (available in both color and black and white) from the VIP Resource Library.