My kids love getting the mail.
"Can I get it?" Raisin asks if I mention the need to get the mail. "Is there anything for me?" he asks the minute I come in if I happened to get it.
He sends letters to friends and teachers. He sends letters to his grandparents. He loves to send and receive mail.
So of course we needed to create our own mail center in our playroom!

I found a rectangle of cardboard. It was flexible but strong. It had a flap of cardboard in the front that reminded me of a mailbox flap.
It took some simple bending and some painters' tape to move it in the the correct shape. I used an Exacto knife (aff link) to cut it into the proper shape and cut out a back for our mailbox.
My son loved to paint it with me.
To add to our fun, I decided to make some postcard templates. I made two different options, one for my toddler and the other for my second grader.
First, for my toddler, I made postcards with a "To" and "From" spot with monster stamps in the corner. I laminated them so she could use them over and over again!
Our dry-erase crayons (aff link) are perfect for this! Note that the crayons are much less messy than the markers would have been. They wipe off very easily, and Strawberry can write a new letter.
Then, for my second grader, I intended this to be a handwriting practice center as well as a fun play place! I made a blank template with primary-grade lines. We talked about the parts of a letter. Obviously, this is a much casual letter than some may be, but I still expect him to have the basic parts of it!
He really wanted to attach the stamp himself, so I printed letter templates without the stamps and separate monster stamps to use. (I laminated the stamps so we can pull them off and reuse them on other postcards.)
He was very eager to write me a letter. While usually I have to cajole him to do his handwriting or copywork practice, this time he was excited.
"Don't look!" he kept telling me.
The kids played for an hour with our mail center. I am excited that they are getting writing (or in Strawberry's case, pre-writing) practice all the while having some imaginative fun!
Do you have a letter-writing center in your home or classroom? Download these postcard templates below and set one up!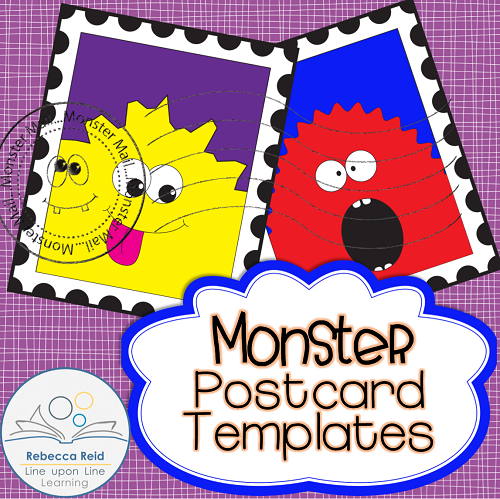 If you enjoy this blog freebie, let me know so I can make more quality learning games like it.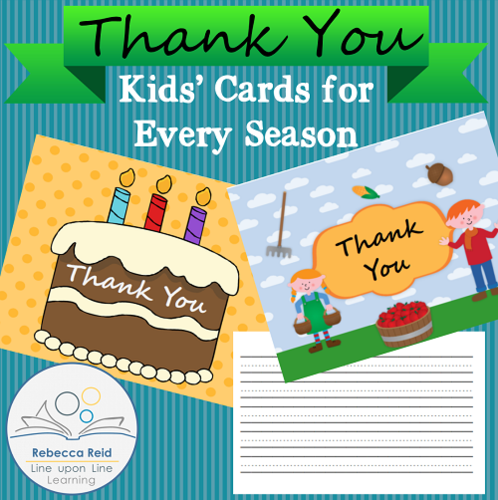 You may also like my Thank You Kids' Cards for Every Season primary-grade lined product, available in my Shop, at TPT, or at TN. These help my son practice his handwriting on primary-grade lines while writing his thank you notes to family and friends.
Do you want more ideas for teaching a toddler? 
<