One of the favorite things my kids love to cook is pancakes, of course! I believe it was one of the first things I actively encouraged my kids to take part of in the kitchen, simply because it's fun to help stir,  it's exciting to watch the pancakes sizzle and flip, and it's delicious to pile the toppings on.
To add to the fun, I have made a few pancake-related products for my kids to help add a learning dimension to the kids in the kitchen fun. Over the years, I've found that the packets of fun are actually at a few levels, from a second grade math and activity pack, to a picture book lesson for younger learners, to a craftivity for those as young as preschool.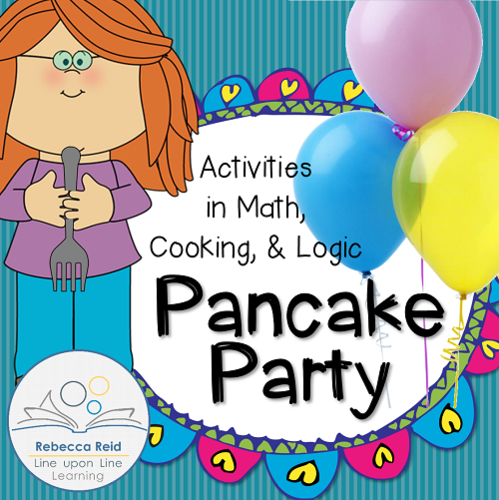 First up is the math and activity pack for the first and second grader. My son really enjoys how Pancake Party makes preparing pancakes into a "party" of fun. There are pages for logic practice (How did each child arrive at the party?, for example) and pages for basic math practice (circle the correct clock time, pancake addition, fractions, etc.). Then there are pages to find the correct measuring utensil, as well as a scrambled recipe that needs to be put in order before cooking can begin. Raisin said it was a lot of fun this time around. Despite the fact that we did the same packet a year and a half ago when I made it, he still enjoyed it! (He did not remember doing the packet before!)
The next pancake product I made is a pancake picture book lesson plan for kindergarten and first grade. It lists three popular books (as well as alternates) about pancakes, including Eric Carle's Pancakes, Pancakes! which Strawberry got for Christmas this year. Included along with the lesson plan ideas to coordinate with the stories are some simple worksheets: cut, glue, and write sentences; retell the story by filling in the blank; how-to sequencing; and a creative writing prompt (If I gave ___ a pancake, then ____).
These were mostly too difficult for my almost three year old, but she did have fun pasting the words back on one of the sentence pages!
And then was my set of pancake craftivities that turned out just right for Strawberry (with help)! She was very excited to "mix, mix, mix" with her paper spoon and holding her paper apron! These have simple writing prompts combined with a coloring, cutting, and pasting. I provided different writing templates so teachers can differentiate.
I also have a fun print out of a fun pancake poem, with simple ideas for using it for class discussion. That is completely free. I am all about sharing my love of poetry with everyone else!
Mix a Pancake Poem FREEBIE

$

0.00 Add to cart

Picture Book Lessons, Poetry, Life Skills, Preschool, Lower Elementary, Lesson Plans, See All Free Items

Pancake Craftivities

$

3.00 Add to cart

Language Arts, Writing and Grammar, Other Subjects, Life Skills, Preschool, Lower Elementary, Crafts