Almost every Wednesday, we go to our group co-op. I teach a class, and my son is present for one or two other classes as well. This means that my daughter gets to "hang out" for at least three hours each week, sometimes with a different adult to watch her.
I want to make their time as easy as possible, but I'd also love to help her learn something! Enter our new weekly workbox (or workbag). I'm also going to be linking with a great linky party too. If you are looking for workbox, workbag, busy box ideas, then definitely check it out. If you have a blog, blog about it too and link up!
I have no intention of following a "letter of the week" program with my toddler, but I have decided to do themed activities with her whenever possible. Today I started with apple activities! We hope to go to the apple farm soon to pick apples, so this seemed an appropriate theme for this week.
Here are the fun things I packed in our bag this week.
First, I found a few activities online that worked well for Strawberry's needs.
Then there were a few apple counting activities that I pulled together.
Sort the Apples. We have  red and green pompoms and Strawberry enjoyed sorting them out.
Count apples.  We used pompoms on the "trees"; I introduced the number apples but Strawberry did not care much about those.
Read Ten Apples on Top and put "apples" on the animals. I had some small green stones for this activity.
You can get these in a simple download. Click the cover image below to get to download it.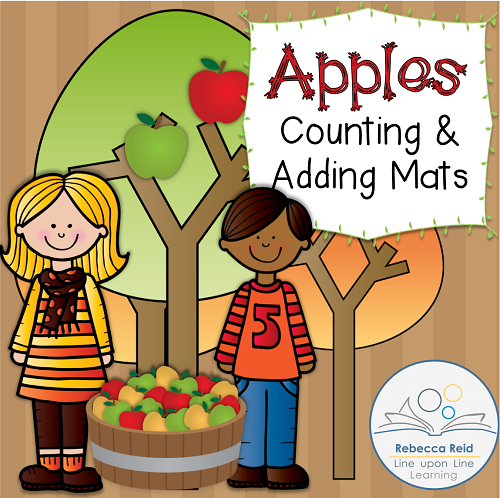 Here were my final ideas for fun. I found things around the house and they seemed appropriate.
Sew an Apple with a Pipe Cleaner. I traced an apple on red foam, then punched holes around the edges. This was just right for Strawberry's skill level!
Ripped Paper Red Apple collage. Strawberry loves gluing things!
Silly Snake Color/Pattern Match. We pretend these are worms that want to eat an apple!
Books. Read Chicka Chicka Boom Boom and I Spy An Apple for fun.
Sesame Street Picnic Puzzle. There is an apple tree in the puzzle.
And those are the apples activities in our workbox for the week!
What do you give your little ones to play with when you are busy doing school with the older ones? What is in your workbox this week?
image credit depositphoto.com/orangestd
Unless otherwise noted, images on these posts are either taken by myself or are used under a no attribution required license from pixabay.com, Dollar Photo Club, depositphotos.com, or GraphicStock.com (affiliate links).