In my reading and writing co-op, my goal has been to help the kids learn to read a book beyond just reading it! I want them to recognize the story arc, and hopefully compare it to ones we have already read. I want them to read something and notice the evidences in the text that give it meaning.
In my co-op class, we read two similar stories and compared and contrasted them. Two of those we read fit in perfectly with this week's Mentor Monday (Character Building with Goal Setting), for in both of them, kids work towards earning money for a goal.
(Note: for your convenience, the book covers are Amazon affiliate links.)
In Tia Isa Wants a Car by Meg Medina, the girl and her aunt save money. In A Chair for My Mother by Vera B. Williams, a girl and her mother save money to buy her mother a soft armchair, because the furniture they had in their home has burned in a fire. From that preliminary summary, the similarities are obvious!
I really like these two books for a few reasons. Both kids help their older guardian by working hard! The items they want are not necessities but are desired for a good reason. These books show kids how perseverance pays off in the end, and how desired items are not always a luxury. I love how they saw incremental growth and then joined their older guardian (aunt and mother) for the ultimate purchase. Besides that, both books portray cultures different from the white middle class so prevalent in picture books (and among the kids I work with in my co-op!).
For my co-op, I used these books with a Venn Diagram, a writing outline page, and then a finally "composition" writing page. I also gave the kids the option of comparing one of the books to themselves, although none of my kids took me up on the offer.
Do any of them work for something like the characters in these books? How can I teach my son, at least, to appreciate what he has and work hard? Questions to ponder as I parent.
This compare/contrast set of pages could also work well with a number of other books. Here are some others we read together that I encouraged the kids in my co-op class to work with:
Enemy Pie by Derek Munson and My Rotten Red-Headed Older Brother by Patricia Pollacco
My Name is Maria Isabel by Alma Flor Ad and The Name Jar by Yangsook Choi and Chrysanthemum by Kevin Henkes
Since I created these printable pages for this activity, here they are for your convenience!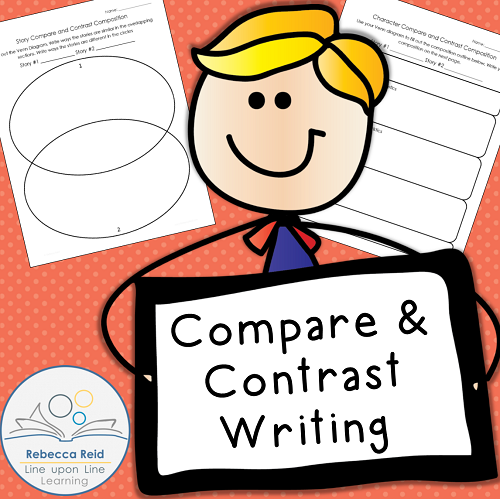 Unless otherwise noted, images on these posts are either taken by myself or are used under a no attribution required license from pixabay.com, Dollar Photo Club, depositphotos.com, or GraphicStock.com (affiliate links).