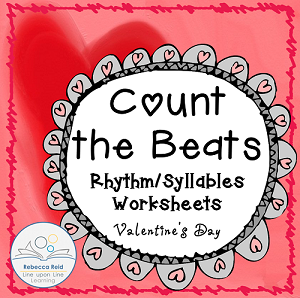 My number one download on my Teachers Pay Teachers Store is my Valentine's Day FREEBIE for kindergartners to practice syllable counting. You can also download this syllable counting practice freebie from my Line Upon Line Learning Shop.
Count the Beats: Valentine's Day is three simple worksheets. Two of them provide pictures of animals. Students draw a line from the animal to the number of heart beats (syllables) that are in it. The last page provides images and the student circles the number of syllables.
This is similar to a part of my larger offering about rhythm in poetry, a Picture Book Lesson plan for kindergarten or first grade teachers. Introduction to Rhythm is available at Teachers Pay Teachers, Teacher's Notebook, and my Shop.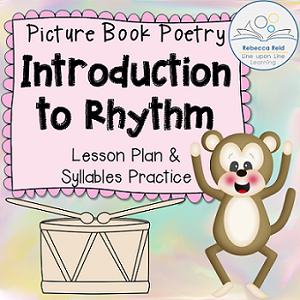 Picture Book Poetry: Introduction to Rhythm is more than just syllables practice. It includes all of these things!
A lesson plan and book list, as well as a compilation of ideas for teaching the basics of rhythmic poetry to kindergarten or first graders
Eleven pages of worksheets (some simple "draw a line" and others cut and paste activities) for students
Three templates for creating a "silly rhythm poem"
Two pages of public domain limericks and nursery rhymes
Four charts for students to write their names on to declare how many syllables are in their name
I am so excited for this product. It was one of my first ideas to come to life for my tpt store. I hope you enjoy using picture books to make poetry — and syllables practice — come alive for your young one, whether you are a homeschooling parent or a public school teacher!
[ecwid_product id="41358502″ display="picture title price options addtobag" version="2″ show_border="0″ show_price_on_button="0″ center_align="1″]
[ecwid_product id="41358508″ display="picture title price options addtobag" version="2″ show_border="0″ show_price_on_button="0″ center_align="1″]