Today I have double lists to share!
I am so excited that I can share my thoughts over at Blessed Beyond a Doubt today! I share things for homeschoolers to remember on those dreary days. I start by comparing September to February.
In September, I had energy for homeschool.
Go over there and see the seven things I suggest for you to remember on the dreary days of February!
Today, on this blog, and on a related note, I'd like to share with you some of the things we have enjoyed on our snow days.
As homescholers, we do stay home on most days. But the dreary, cold, snow-covered world has not escaped affecting our moods. Our homeschool has been dragging along a bit in the past few weeks. I have not called an official "snow day" for our school. (I'm not sure what that would be.) But  in the past few weeks, we hit rock bottom with attitude.
Are you facing the same difficulties? Here is a list of ideas for the days in which regular school is simply not going to be an option.
Note that I do not suggest going outside because this is regarding our current weather, which would more accurately be "cold weather days."
Play a learning game. Turn your school in to games. I resort to this even on the normal days! On snow days, there are all the more reasons to "play" school.
Cook. Whether it is preparing pancakes, making cookies, or enjoying waffles, my son loves to join in the fun. The bonus is the eating at the end!
Watch something…together. Find a learning website or movie, but to make it a learning experience, do it together. I don't have a television (we only use online shows and movies), but when I do resort to media, I often send the kids to it while I finish cooking or cleaning. Watching something educational together and talking about it makes the experience much more valuable to a child. We watched a science documentary as a family a few months ago. Although it was clearly for adults and much was beyond Raisin's understanding, because we watched it together and talked about it, I am certain he learned from it!
Create. Play-doh, painting, crayons, glue, tape, scissors, and a giant paper cutter. These are the things with which creativity is explored. This week we're working on those Valentines! Raisin loves to create artwork on the computer, so I am letting him go for it for Valentine's Day. But the Play-doh and crayons work as well. I love it when I see learning sneaking in! (Look, Mom! Here is Mt. Vesuvius!)
Play with toys together. My son loves someone to play with. When we are all stuck inside, it's time I sit down and build, play, and explore the toys with him.
What do you do on your "snow days"? As a homeschool parent, do you call "snow days" when the weather gets nasty?
I'm linking up with List it Tuesday today.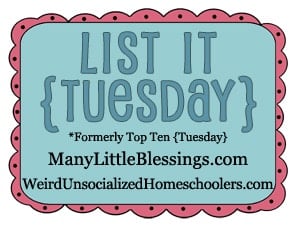 image credit: pippalou