Although we are mostly doing The Story of the World, and this year we are focusing on the Middle Ages, I do try to keep a bit of American history, geography or culture in our schedule every week. Since Columbus Day is coming up in just two weeks, I decided to revisit the explorers by playing our Guess Who?-inspired game: Guess the Explorer!
Since we studied the explorers in depth two years ago, we did not revisit the information cards this time around. But Raisin wanted to play game after game of the Guess the Explorer game!
The twelve included explorers are as follows: Leif Erikson, Marco Polo, Bartolomeu Dias, Christopher Columbus, John Cabot, Amerigo Vespucci, Vasco Nuñez de Balboa, Ferdinand Magellan, Juan de Ponce de León, Hernando de Soto, Francisco Coronado, and Jacques Cartier.
I have twenty explorers to prop up on our game board.

I got my card. Don't tell my son who I am!
We ask yes or no questions to eliminate options. I know Raisin has an Italian. Now I just need to eliminate two more explorers to find out which he is!
Raisin has been asking me quite specific questions, so he has not limited down the possibilities very much yet. I try to prompt him to ask more general questions. Some great questions would be these:
• Did your explorer travel by land? or Did your explorer travel by sea?
• Did your explorer seek a Northwest Passage? or Did your explorer seek for gold?
• Did your explorer ever see Asia? or Did your explorer ever see North America?
• Did your explorer stay in North America?
• Is your explorer Spanish? or Is your explorer Portuguese?
Oooo! I've got it!
And I my guess was right! Raisin shows me his Amerigo Vespucci card. Then he finds me (Francisco Coronado) on his board. He begs to play again. I am happy to oblige.
Who will I be this time?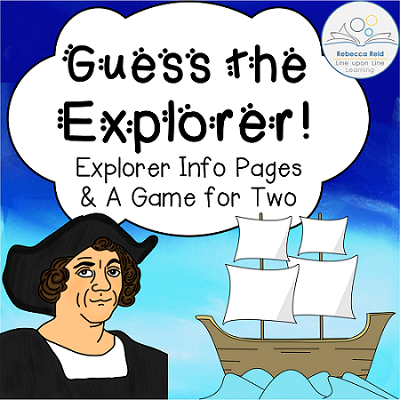 Guess the Explorer! is available at my Shop as well as at Teachers Pay Teachers and Teacher's Notebook.