When my oldest was about six months old, I handed him a board book to hold while I checked out my own books from the library. A kindly elderly woman scowled at me as I walked past.
"Don't you think he is a bit too young?" she scolded.
Nope, in fact, I think it is never too early to introduce your baby or toddler to books! Books are the perfect gift for a baby or young toddler. Finding the right type of book for a little one takes thought, but it's worth it as you watch him or her fall in love with reading.
My baby, who just turned one, received books for her first Christmas, when she was not even three months old. She did not engage with them until she was about four or five months old, but from then on, she's been surrounded by books. True, some get chewed on. But I know that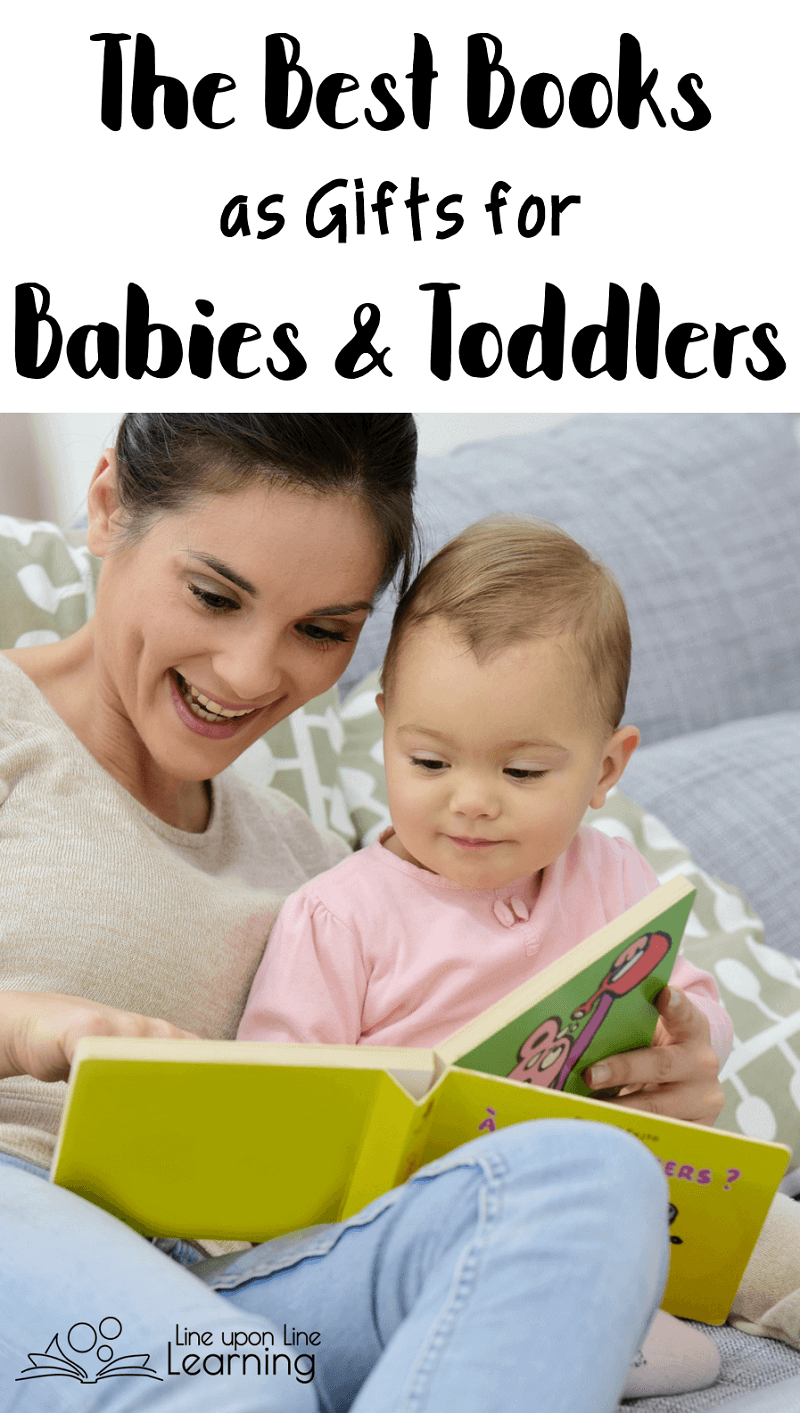 Baby First Books
As I mentioned when I posted about playing with your very little baby, babies love high contrast items.
Baby's First Black and White Library is one of my baby's favorite and first set of books. They are very small (a few inches square) and thus perfect for her tiny hands to hold. They fit into an adorable book sleeve, so she loves to put them away. Finally, each page of the book has one word to describe the image, which is predominately black and white with a few other dots of color (such as red dots on the baby's cheeks). My older kids love to read it to my baby. Although these are small books, she loves to play with them and flip the pages.
On the Farm is another helpful high contrast book, and this one opens up to form a panel. One side has all black and white animals. The other side provides a colorful collage of farm animals on the farm. I love to unfold it and let my little one enjoy it. Before, she would stare at it. Now that she is more mobile, she'll grab it and try to play or eat it! We also have the 123 Counting book.
The best thing about high contrast books is that there are not stereotypical "boy" books and "girl" books. Black and white (and some color) work for any type of kid!
See more gender neutral baby gifts ideas from my friend Katie at Views from a Step Stool.
Board Books and Activities
It's true that a baby younger than six months or even 18 months will probably not sit still or otherwise treat a book with tender and loving care. In this day and age, it is not necessary to hand them a book that will be immediately destroyed! There are tons of sturdy book options that will be adored by still live to see another day.
Baby's Very First Slide and See Animals was my choice for my one-year-old daughter's first birthday. She loves that the finger tabs let us move the animals around the pages.
We love the That's Not My …. books! These have pages of textures. My older daughter quickly discovered the pattern (all the pages say that's not my ……, until the last one when it is!) and my baby is sure to figure it out too!
Likewise, the flaps and textures in Animal Hide-and-Seek help Kitty interact with the book. This is something she is meant to love and touch!
The I Can Count book is a part of the mini-treasuries series. Also included in the series are My First 100 Words, My Farm Animal World, My Wild Animal World,  These books are chunky books that fit into a box. It becomes a set of mini-books, a puzzle, and a set of blocks to stack. My daughter loved them in her toddler years and loves them still, even though she's a preschooler now!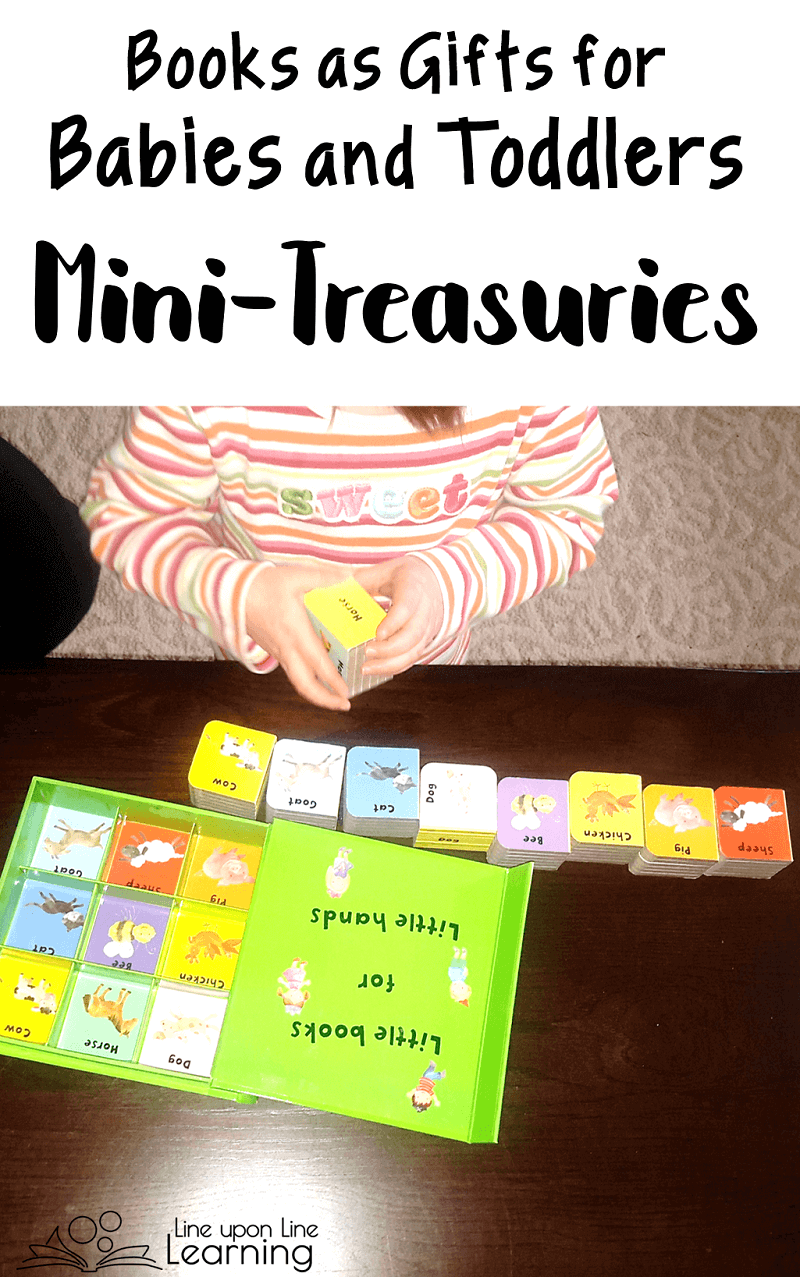 A bonus to these books is that they are educational as well as fun! As kids play, stack, and sort the chunky books in the counting, words, or animal books, they are also able to learn from them. What a perfect combination!
See more educational gifts for toddlers from Chocolate and Chaos.
I love so many more favorites that are just right for the baby and toddler age. It is incredible how many there are! Browse through the Baby and Toddler category over at my Usborne Books and More site to get more ideas for the little one in your life!
Favorite Durable Read Alouds
Even the most rowdy kids will learn to listen to a book at some point in their lives, especially if you have kept books around them all the time. I've mentioned before a number of my favorite picture books for toddlers, so I won't repeat that list. I'll hold to those as favorites of mine. Since they do, for the most part, have stories and nice covers, I don't often hand them to my children during their most destructive phase of toddlerhood!
I'll read them books while they play. I'll read them books while we cuddle or while they are extra sleepy.  Since I've been reading Kitty books since infancy, she knows when she can't snatch the books from my hands. I'm also willing to risk the fact that some of them may get ripped! Reading together is worth the chance of a few ripped pages.
That said, some other read alouds are more sturdy. I've written before about I'm a Dirty Dinosaur! and I'm a Hungry Dinosaur! see my posts on painting with mud and painting with chocolate! Both of these books come with extra durable pages that do not easily rip. Have a dance party or make a chocolate cake as you read them! The books lend themselves well to dancing.
B is for Bedtime is another book with durable pages that I love. It helps a child to bed by following an alphabet!
You can also give a book that is a board book but still has plenty to read and talk about. Very First Book of Things to Spot is lots of fun for parents and toddlers to read together. It asks the reader to find things in the pictures, such as "Where is the dog wearing a hat?" and so forth. It is a perfect discussion book to read with a little one who was just learning words. See also At Home and  Out and About.
Beautiful Gift Books
My favorite book in baby Kitty's room is her Nursery Rhyme Collection. I admit that this is one that I don't let her play with. It comes in a slipcase and is large and gorgeous. Yet, I have it on display on her shelf in her room. We have read it together since she was little, but I don't hand it to her. My preschooler is old enough to turn the pages with me. I assume, at some point, the pages will get ripped. But we're keeping it in a special place to help avoid that possibility for as long as possible. It's a special time when we read it together, and it was a lovely gift for her when she was a little baby.
Another gorgeous slipcase book is The Illustrated Alphabet. The illustrations are gorgeous and the content is age appropriate for infants and toddlers, although it is so beautiful that I probably won't hand it to them until my children are a little older. It's a special book to read together.
Finally, the Children's Illustrated Bible Stories is also a cloth-lined gorgeous gift for the young baby or toddler. It's gorgeous for display, and a special thing to read aloud to them when you're ready to share it!
Do you want some personalized gift book suggestions for the baby or toddler in your life?
I'd be happy to work with you to find a book that is just right for your situation and the little one's personality. Contact me for more information.
In the meantime, get more personalized baby gift ideas from Beauty Through Imperfection.
Keep in mind that a one-year-old child will be delighted to play with the bow on the package just as much as unwrapping a new book. This was our situation at my baby's recent birthday: She loved that sparkly bow!
But despite the lack of birthday party of enthusiasm, books are great for the littlest ones. Once parents have books in the house, the children will grow to love them. Early literacy is integral to raising readers.
Don't hesitate to give a baby or toddler the gift of a book. They are the best type of gift to give.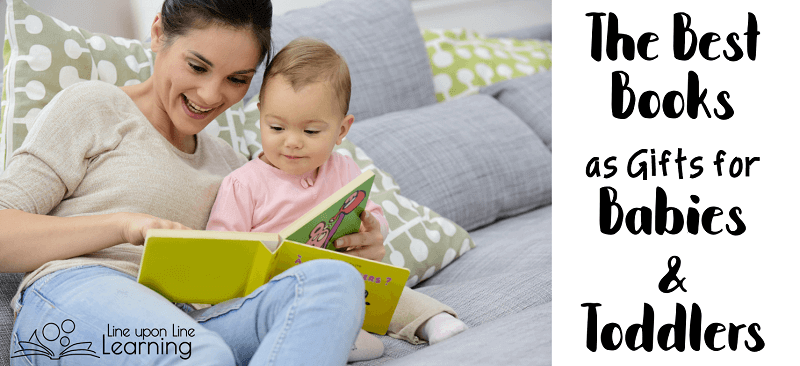 Want some more ideas for gifts for babies and toddlers? Check out the best gifts for babies and toddlers blog hop homepage at Kara Carrero.