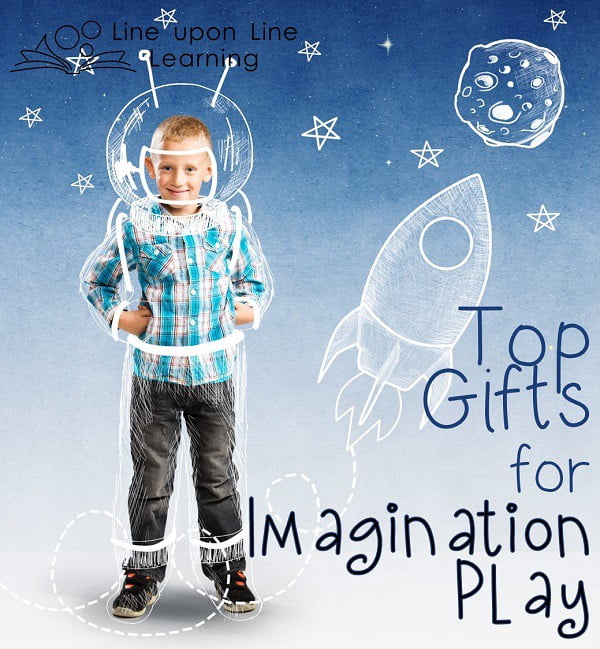 My children have amazing imaginations. My older kids still love to join my youngest in imagination play. As I consider our toys and accessories, I appreciate the fact that many of them are ones that encourage them to further develop their imagination. Here are some of the best toys for imaginative play. What gift ideas for a creative child would you add to the list?
Best Puppet Theater & Puppets Imaginative Toys
A puppet theater puts the kids and their puppets on center stage! The Melissa and Doug Deluxe Theater gives kids a perfect stage for kids to imagine a new story. In terms of puppets, the Melissa and Doug Palace Pals and Farm Friends are on my kids' wish lists this year. My kids especially love people puppets, however, so this family set would also be perfect to add to our collection. These are all great quailty, and the true puppet theater makes it a desired activity.
Lower cost DIY alternative: Use the edge of a table as a puppet stage and make puppets out of paper bags or old socks.

Best Dolls and Babies for Imaginative Play
With the recent arrival of baby number 3 in our family, my kids have loved playing "family" with stuffed animals and dolls. Although I've given her my favorite dolls from my childhood, Strawberry most enjoys her Melissa & Doug Jenna – 12″ Doll
which she received for her first birthday. This is the perfect doll for a little child because it is small and light. A must-have accessory is the Fisher-Price Brilliant Basics Stroll-Along Walker
, which helped her as she learned to walk since it is made of strong molded plastic. It was perfect for her baby doll! Melissa & Doug have many other 12-inch doll models
, as well as many other accessories
.
Strawberry keeps her baby doll in a small wooden crib that my father made for my doll when I was young. If you don't have your own family heirloom, the Badger Basket White Doll Crib
may work for you.
Strawberry also enjoys her Sofia Toddler Doll
, which she can comb and dress, or talk to like a friend. Add your child's favorite stuffed animal as well, and your child can become a parent who loves to play "house" too!
Lower cost alternative: Use real baby accessories, like newborn-sized diapers or a small umbrella stroller, to enjoy imaginative play.

Best Dress Up Toys for Imaginative Play
Halloween has just passed, and this is always a fun time because it means we have added to our costume box! Raisin and Strawberry both enjoy dressing up all year long. Some of the favorite outfits include the Imaginarium Firefighter Dress Up Set
and Imaginarium Policeman Dress Up Set
, but even with just Imaginarium Rescue Accessory Set
the kids can have a blast issuing tickets or attacking a fire! Imaginarium has great costumes of all kinds for reasonable prices. (See the images below for some more examples.) With a costume, kids quickly change in to a super hero, a doctor, a firefighter, a mail carrier, or a chef, etc. The world is at their fingertips.
Lower cost DIY alternative: Make your own costumes from old shirts, or purchase only the accessories or hats.
Best Kitchen and Food Imaginative Play Toys
The best imagination play in our house has to be related to our pretend kitchen. My son loves to cook, and now that he's old enough, he helps me out in the kitchen frequently. He's been "playing kitchen" for years, though! Now Strawberry has joined him in the play room kitchen.
I love the Little Tikes Get Out n' Grill Kitchen Set
because it provides a grill space, a burner for cooking, a sink, and underneath storage, but it does not take up as much space in our play room as a full-sized play kitchen would. We have a simple bookshelf next to the grill to provide additional storage, to act as a microwave, or to fulfill any number of additional imagination roles. If you want a high quality full-sized kitchen, the KidKraft Grand Gourmet Corner Kitchen
or Step2 Heart of The Home Kitchen Set
get fantastic reviews!
But while we have a smaller sized kitchen play unit, we do have a large number of food items for play, including the Melissa & Doug Food Groups
, Melissa & Doug Cutting Fruit Set
, Learning Resources Market Set
, Melissa & Doug Wooden Pantry Products
. Don't forget the pots, pans, and dishes
or the cash register
for cooking and checking out the food!
Lower cost DIY alternative: Save empty containers, such as mini-cereal boxes, for imaginary play. Or, cut food out of felt in the desired shapes.
Best Toys to Encourage Creative Play with Little People and Cars
Small people, cars, and houses or buildings also provide a different place for imagination, this time in a miniature community setting. We love the Fisher-Price Little People All Around Car
, Fisher-Price Little People Happy Sounds Home
, Fisher-Price Little People Rollin' Ramps Garage
, Fisher-Price Little People Train
.
Along with Little people, we also love playing with Matchbox cars
and Hot Wheels
. These small people and cars provide hours of entertainment as kids assign personalities and hlep their imagainary people get to the right buildings and homes in the community.
Lower cost DIY alternatives: Make your own little people out of clothespins or make buildings out of blocks.
Other Gift Ideas for a Creative Child
It is important to encourage imagination. I hope these gift ideas will help you decide what to get your kids to help them in their open-ended imagination play!