What do you do with an interested two-year-old while you are trying to give her brother school?
This is the question I've been wondering all summer as I've pondered how to jump back in to homeschooling come the end of August! My daughter simply loves to be a part of everything. I've got to find a workable solution.
I recently discovered busy boxes and busy bags (for on the go) and I am so excited to put some together.
My ABC Matching Game Clothes Line is based on the Clothes Line Busy Bag I found at Money Saving Mom. While Strawberry readily recognizes the uppercase letters, the lowercase letters are not as familiar. I decided to adapt the Clothes Line Busy Bag into an early literacy letter recognition activity.
As Strawberry places the clothes on the matches, she'll see both the uppercase letter and the lowercase letter. I put 6-7 items on each clothes line. Because my daughter is so young, I try to just give her one set at a time until it becomes more familiar. But, she loves them so she wants to do them all at once!
I also added a pocket "washing machine" so she can take the clothes off of the line and "wash" them.
There are a couple of ways to use this free printable. You can add a string to make a clothes line (punch a hole on each pole and tie the string on).
Another option is to put hook-and-loop tape (Velcro) dots on the back. This may be what we do eventually. Because my daughter is so young, the fine motor skill activity (i.e., the clothes line) is difficult for her.
Strawberry especially likes to play this game with her older brother or with my help. So far, she enjoys trying with the clothes pins. I am hoping that the more we do this together, the sooner she'll figure out how to work the clothes pins by herself.
Regardless, she loves the ABC Clothes Line, and I can't wait to keep playing with her!
Would you like a free copy of the ABC Clothes Line printable? Download it for free at my shop, TeachersPayTeachers, or Teacher's Notebook. Let me know if you do enjoy this freebie!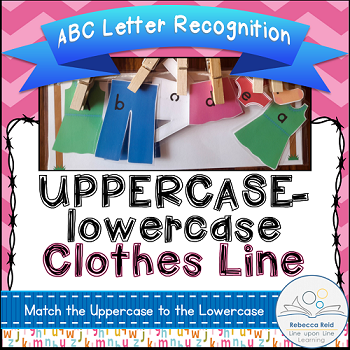 I've also recently made ABC Puzzle Cards and ABC Dominoes. These two are not free at this time, but you can get both of them in a discounted bundle!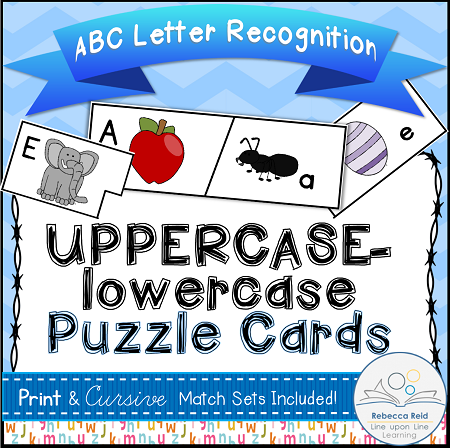 Do you want more ideas for teaching a toddler?