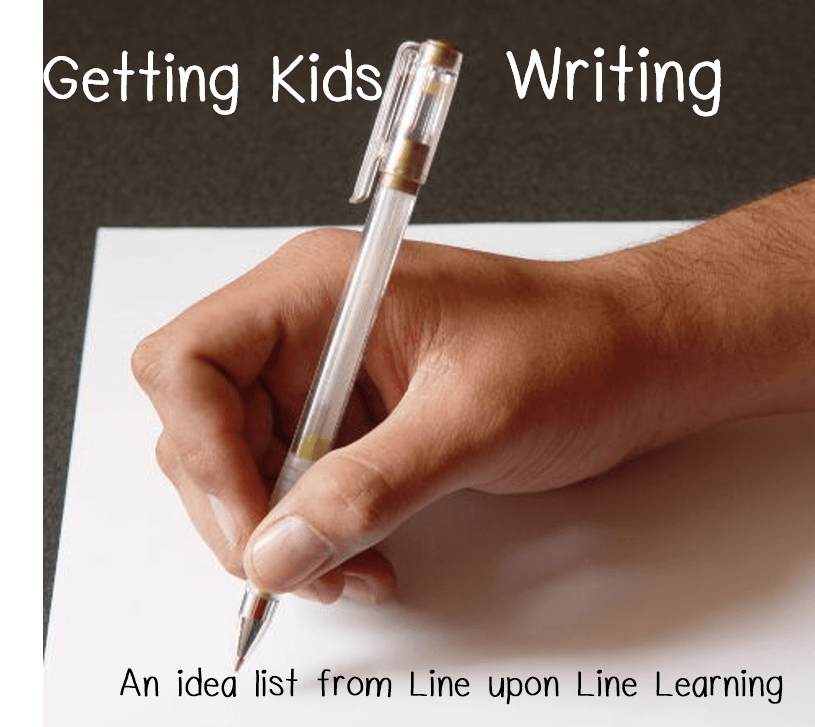 My son resists handwriting practice so I have been pondering ways to get him to practice his writing. I also am teaching a writing class at our weekly co-op so here is a list of some ways that we get practice handwriting around here.
Thank-You cards and other greeting cards. My son's birthday is coming up and he's already received something for which he needed to write a thank you card. I created some note cards with primary-grade lines and I need to make more! He did not complain at all when I said to write the note to Grandma. I modeled the sentence he gave me and then he copied it. It was copywork with a purpose!
Lists. My kids sometimes help write the shopping list, and my son also sometimes make a list for our weekly "Family Fun Night" telling me what he wants to do or what books he wants to read. It takes him a long time to get the "schedule" written down, and it's good writing practice.
Stories. When my kids have an idea, they can write it down in pictures or with their own "creative" spelling, which is however he or she wants to spell. Other times, I let my children dictate his stories sometimes instead of making him write them himself. Although that does not always help him with the handwriting, it does help him put words in order. Watching me write helps him learn the process. I'm excited to let my co-op class get plenty of story telling and sharing time this year! We also do plenty of story telling to each other. My son loves to hear my stories from when I was a little girl. He loves to try to tell them back to me when I forget special details. Having something interesting to say, like a story, is great motivation to learning to write.
Math. Raisin practices his writing when he does math problems. Number writing practice is better than nothing!
Labeling. We're learning Spanish so I let the kids label things around the house. Our Spanish curriculum even includes stickers for labeling some of the items, so we of course had to write down the other words we knew!
Races. We do writing races using the white board and markers or the Magna Doodle. We draw a letter card and race to see who can write it and return to the start spot first. Sometimes we make it so we're trying to get a family of stuffed animals back to their homes: for each correct letter we write, we get to take an animal back. We can do this with spelling words too.
New surfaces or writing tools. My daughter loves to practice handwriting on a white board, as I mentioned above. We can also write, using those markers, on the back door! Chalk is also fun. Different muscles are strengthened when a vertical writing surface is used. There is also less complaining when we're using fancy pens, too.
Adding a purpose to our handwriting practice makes it less tedious than copywork all the time would be. I like to write with a purpose, and my kids are less likely to complain if they have a purpose for the writing they are doing.
What do you do to get your kids practicing handwriting?
Like this post? Pin it for later!
More Great Ideas to Get Kids Writing