This week's Mentor Monday is about Persuasive Writing, which is just perfect since we started persuasive writing last week in my writing co-op!
Last week, we read cereal boxes. I then asked the kids to work on their own cereal boxes or advertisements. What do marketers say to get people to want to buy the cereal? My favorite creation was Creeper Cereal…hehehe. Make everything into Minecraft, and you get the excitement you were looking for!
When I thought about a persuasive mentor text, my first thought was to go with The Pigeon, Mo Willems' crabby bird who demands things. I almost dismissed it (my kids will probably think it is childish) but I think I'm going to run with it anyway. It will be so silly that they will probably enjoy it.
The mentor text I'll use is Don't Let the Pigeon Drive the Bus! by Mo Willems.
When my son was two, we would read this book, and he could not say no to the pigeon. Every time we would read this book, he'd say "YES!" I could not get him to understand that we supposed to say no.
I would like the kids to explain to the bus driver why he should or should not let the pigeon drive the bus.
Although I am strongly on the "don't let the pigeon drive!" side of the argument, I think it is important for kids to think of reasons for themselves. I am hoping that this simple template below will help them put reasons to their argument. I'll let you know how it goes!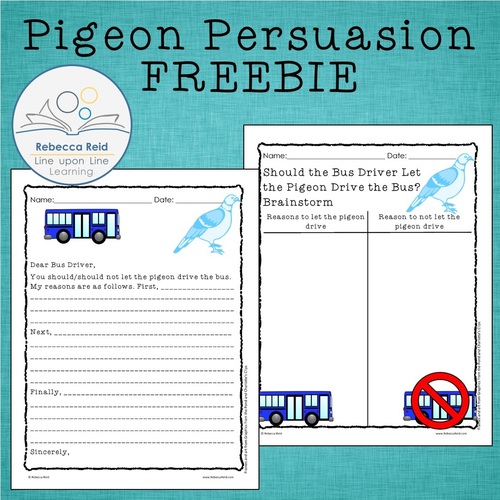 Want more ideas for teaching persuasive writing? Visit The Reading Tutor/OG's blog to see others on the link up.
Unless otherwise noted, images on these posts are either taken by myself or are used under a no attribution required license from pixabay.com, Dollar Photo Club, depositphotos.com, or GraphicStock.com (affiliate links).