As a homeschooling mom, I am used to having my kids around all the time.
But this summer has been difficult for me. Despite the gorgeous weather and essentially unlimited free time for Raisin, I have heard complaints of boredom. Can I tell you how much this drives me crazy!?
At the same time, I had a minor panic attack last week as I pondered teaching second grade with my toddler underfoot. How can I get done all that needs to be done? How can I teach when my son gets distracted just going to comb his hair? This is not going to be easy.
I realized what we need: we need to get back in to routines. My daughter loves the bedtime routine. My son loves to check things off of a list. Why not put together a schedule to keep up sane?
When I mentioned starting school again to my son, he was surprisingly excited.
"Can we get ice cream on the first day again, Mom?"
So yesterday was our first day. Here is our annual ice cream celebration to prove it:
To get him ready for the first day, I made up a visual schedule. It was definitely time to get back on schedule. I love my laminator, and I love Velcro (hook-and-loop tape)! I used this roll and cut the Velcro to size (affiliate link).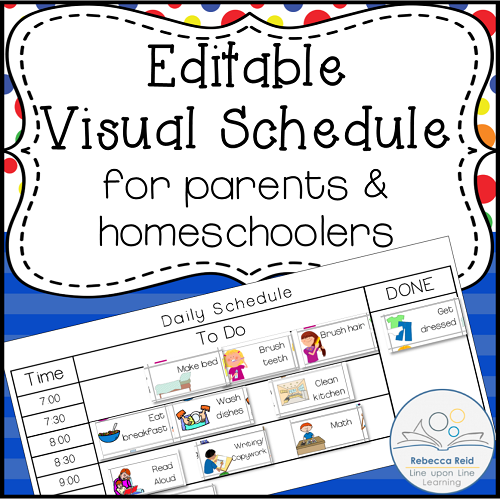 I made this an editable visual schedule. I know not all my readers are homeschoolers, so if you wish you could change the schedule to be just a morning/get ready schedule or an after school schedule. Click the image above to download this freebie.
There are always things to do, so I hope this schedule may help you get organized as you jump back in to school! It has already helped us stay on track, and I love that I can give Raisin accountability for his daily tasks. Begin back on schedule is helping us have a great start to our school year!
See more Back-to-School tips and posts in our linky here:
Giveaway
But that is not all!
We're excited to announce a Back to School Giveaway for you to enter to WIN!  The prizes are sponsored by Safari Ltd, Melissa and Doug, Trunki, Elmer's Glue, Discount School Supplies, Squeazy Gear.  Plus, Gift Certificates were donated for printable packets and/or eBooks from The Educators' Spin On It , 3 Dinosaurs, Preschool Powol Packets, Look! We're Learning, This Reading Mama, & Life Over C's. a Rafflecopter giveaway
Unless otherwise noted, images on these posts are either taken by myself or are used under a no attribution required license from pixabay.com, Dollar Photo Club, depositphotos.com, or GraphicStock.com (affiliate links).